Testimonials
Below are comments that were provided
by some of our clients

I had an absolute blast working with you today and I am looking forward to working with you
again in the future. The shoot went so smooth and was fun primarily because it was a professional environment
and it was very relaxed. Your attention to detail was awesome and your work ethic was just as great.

Any model that is considering working with Fantasy Photography, I highly recommend it! - Cali

I've never modeled before and I wanted to give it a try. I was a little iffy when it came to doing
the poses with nudity. Well I enjoyed the modeling, I liked the experience, Steve was very easy to work with,
I wasn't uncomfortable at all and I really like how the photos turned out.- Bryna

This was my first experience being in front of the camera. Steve made the whole experience very easy.
I really enjoyed myself - Jennifer

I came to Steve to have some pictures done for my boyfriend. I wasn't
really sure what I wanted and I was a bit concerned about doing anything with nudity.
Steve walked me through everything and made me feel very comfortable. My boyfriend
loved the photos - Stephanie

I am a fitness buff and I came to see Steve to get some photos for my website.
Steve asked if I would do some additional photos for his site. I have never done any Glamour
modeling, but I said that I would give it a try. I had a great time and the photos were really nice - Jodi

My friend saw an ad to do some modeling. He suggested that I give it a try. At first
I was hesitant because I would have to take off my clothes. After emailing Steve I felt more comfortable
that it would be very professional. I had a lot of fun and Steve had some great ideas - Jennifer

When I went to see Steve, it was to have some photos done for his website. I have never
done this before and I didn't know what to expect. Steve took his time with me because I was nervous. The
modeling was fun and I got some great pictures - Ritu

I am a model from Las Vegas. I answered an ad from the internet. I liked the photos on
Steve's site and came to So. California to have some new photos done. Steve was very easy to model for
and I was very comfortable doing the revealing photos with him - Shawna

I came in to Steve's studio to have some photos done for my husband. I wanted something sexy
but I wasn't really sure what I wanted them to look like. Steve went through his portfolio with me and we chose
a few things that I liked. The whole experience was fun and I felt real comfortable posing for Steve - Kathy

I very much enjoyed my photo session. I appreciate very much how respectful, supportive and
encouraging Steve was during the process and I absolutely adore some of the photos. - Alergia

I had a lot of fun at my photo shoot. I thought Steve was very professional and made me feel
very comfortable. I would definitely do it again - Holly

I found Steve on the internet. I am a model from Michigan and I was planning a trip to
So. California to shoot with a few new photographers. I enjoyed working with Steve and he had some
creative new ideas. He was easy to work with and I had a great time. - Shawna T.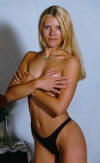 I have never modeled before and I was very nervous. Steve went slow with me and discussed
each of the poses before I did them. I enjoyed the experience and the photos. - Liz